When it comes to lighting for your kitchen, you want lighting for all of the many tasks you perform in the kitchen, as well as lighting that generates a warm, inviting atmosphere. You also want kitchen lighting that looks great, too. Masterpiece Lighting & Home is a local lighting store with locations in Roswell and Atlanta. We boast a 16,000-square foot lighting showroom that showcases the latest lighting styles and trends. You'll love the ideas you can get from visiting us. Our lighting team has decades of experience and are available six days a week to answer your questions. Learn about some great modern kitchen lighting fixtures you'll love, and shop in person or online today!
Undercabinet Lighting
Undercabinet lighting is one of the best types of kitchen lighting available. They are perfect for illuminating your kitchen countertops and offer great lighting for food prep. Plus, they offer a beautiful decorative look and can double as great night lights, too. However, you'll want to choose your light bulbs carefully with undercabinet lighting since some light bulbs, such as halogen bulbs, get very hot to the touch.
---
Kitchen Lighting Pendants
One of the best features about lighting pendants is that they come in all different sizes, so they will look great in any kitchen space. Our lighting designers recommend that you keep the pendants equal distance apart, which promotes symmetry in your kitchen. You also don't want kitchen pendant lighting to hang so low that you have to duck to avoid them.
---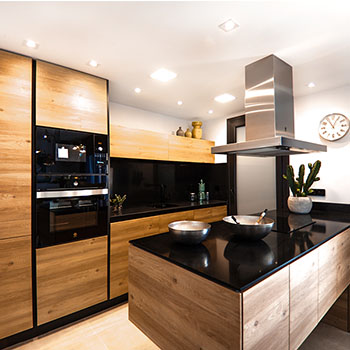 Recessed Lighting
You may be wondering how recessed lighting makes our list of modern light fixtures. After all, they are so "out-of-the-way" that they can go altogether unnoticed. However, recessed lighting is one of the most versatile types of kitchen lighting. They can be adjusted to illuminate any area you desire in your home's kitchen, and you can change their warmth and temperature to suit your needs precisely.
---
Kitchen Chandelier
A growing trend in kitchen lighting is to make a statement with your lighting and add a focal point. A great way to do this is to consider a kitchen chandelier. A kitchen chandelier can be completely customized to be as simple or as ornate as you'd like in whatever design, material, and finish you want, too. Embrace the idea of a beautiful lighting fixture in your kitchen that you'll love.
---
SHOP AT MASTERPIECE LIGHTING & HOME TODAY
Our lighting store is privileged and honored to be serving the residents, builders, contractors, and interior designers of the greater metro Atlanta area with the best in kitchen lighting, as well as all other types of lighting, fans, and home decor. We excel at the fine art of lighting, helping to create mood, ambiance, and atmosphere you'll love. From kitchens and bathrooms to foyers and outdoor living spaces, we've got the modern lighting fixtures you need to relax with. To get started, stop by and speak with one of our expert lighting designers, or shop Masterpiece Lighting & Home online. We offer free shipping on orders over $99 and a price match guarantee on any of the same lighting products found online.
We understand that lighting can be confusing, and you may be feeling overwhelmed from the selection. Our lighting store is here to ensure you get your questions answered and have the options you seek. If you are a builder, contractor, or looking for lighting for your commercial space, we entreat you to take advantage of our free consultations. We can help you implement a cohesive lighting design you'll love. Shop with us today!